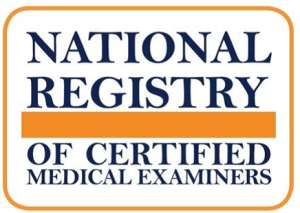 MEGAN MEDICAL DOT MED EXAM CENTER.

ALL CDL CLASS A,B,C EXAMS-JUST 40.​(EVERY SATURDAY MORNING)
8:30AM-12:30PM

CERTIFIED CDL MED CERT'S.FOR LICENSE
RENEWAL.

RETIRED? DRIVING AGAIN?
​WE'VE GOT YOU!

​ALL WALK IN POLICY.
​
NO MEDICAL INSURANCE? NO APPOINTMENT? LAST MINUTE? NO PROBLEM.
EVERY SATURDAY MORNING.
CDL MED CERT'S- JUST 40

MEGAN MEDICAL IS HERE FOR YOU. WE HAVE AN ALL WALK IN POLICY THAT ALLOWS YOU CDL MED CERT OR RE CERT FOR YOUR CDL CLASS A,B,C LICENSE. WE DO THIS ONLY ON TUES. AFTERNOON TO KEEP OUR PRICES DOWN, THAT WE PASS ALONG TO YOU.


DOT physicalsDriving a commercial vehicle means long, hard hours on the road. DOT (Department of Transportation) physicals help keep drivers safe by making sure that they are able to meet the physical demands of the job. Drivers must meet all

DOT physical requirements

before receiving their CDL medical card.

Our clinicians are certified by the FMCSA (Federal Motor Carrier Safety Administration) and are specially trained to understand

DOT regulations

and prevent drivers from being inappropriately disqualified. WE HAVE AN ALL WALKIN POLICY-NO APPPOINTMENTS NECESSARY.
5901 N 6TH ST

MEGAN MEDICAL
5901 N 6TH ST
​PHILADELPHIA PA 19120

​AT THE CORNER OF 6TH ST AND NEDRO AVE-SIDE DOOR ENTRANCE

215 224 9000
EVERY SATURDAY 8:30AM-12:30PM
ALL PHYSICALS EVERY THURSDAY MORNING.
YOU WON'T SPEND A LOT YOUR HARD EARNED MONEY AT MEGAN MEDICAL; BECAUSE WE CARE ABOUT PEOPLE.
CLASS A,B.C CDL FMCSA NATIONAL REGISTRY CERTIFIED DOT MEDICAL EXAMS- JUST 40.00

SOME OF OUR ADS

---
Contact Us
5901 n 6th st
Phila PA 19120
215 224 9000

PENNDOT DRIVERS PERMIT MEDICAL PHYSICAL EXAM-20
​ SATURDAY 8:30AM-12:30PM



Subscribe